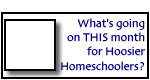 IN THE BEGINNING: IHEN's Roots
jane casey
When we began homeschooling we lived in the Chicago suburbs and I was fortunate to have found the homeschooling area on AOL before we began, so I found out about the wide variety in the homeschooling community very quickly and plugged into three different groups in Illinois: one for unschoolers (which we are, more or less), one that was exclusively Christian, and one that was open to any homeschoolers.
During those years I became more and more involved in the online homeschooling community working as a volunteer in the AOL forum as a chat host and as a board monitor when Home Education Magazine launched their message boards. I became friends with many homeschoolers of different kinds across the country and found myself caught up in the conversations about -- and eventually the formation of -- a new national homeschooling organization, what came to be NHEN. http://www.nhen.org
During the time that the discussions that led to NHEN were going on, we had moved back home to Indiana. We joined the IAHE-affiliated group in Columbus. I began to see that there were individual groups in the state that were welcoming to other kinds of homeschoolers, but that there wasn't anything centralized. It was easy for homeschoolers who were Christians of a particular kind who wanted to be part of groups of like-minded people to find contacts, but it could be very difficult for others.
When I started the IndianaHomeschoolers List and began talking about a state organization, I envisioned a place for all homeschoolers, of any stripe. I knew from my experience in many different forums that maintaining a respectful atmosphere that was equally comfortable for pagans & fundamentalist Christians, unschoolers & strict A Beka devotees could be very difficult, but I wanted to try. I also wanted an organization that would give information equally about different kinds of groups around the state to those who were interested in a particular kind of group.

BY THE WAY
This article first appeared in the Premier Issue of the IHEN Journal, December, 2001
The IHEN Organizational list is a working list where homeschoolers interested in volunteering with IHEN can communicate, network, help to make IHEN the best service organization available in the state of Indiana. Join the IHEN-WebProject List by e-mail.
Join the largest statewide networking and discussion list on homeschooling.
You're not alone!
Subscribe to
IndianaHomeschoolers
Powered by groups.yahoo.com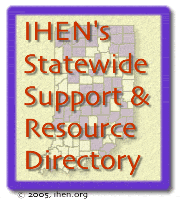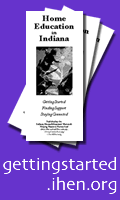 Just starting out, or thinking about homeschooling?
Check out IHEN's New Homeschoolers pages.
JANE CASEY
can be found, working with the other IHEN volunteers on the IHEN-Org organizational e-mail list http://groups.yahoo.com/group/IHEN-WebProject/join
INDIANA HOME EDUCATORS' NETWORK
> http://www.ihen.org
> ihen@ihen.org

IHEN.org Site Design by: Peach Grove Press/eMedia
> Web
> E-mail
http://www.ihen.org/content/articles/casey_011201.htm