ihen publications
articles | booklets | newsletters | journals | topics pages
Welcome to our IHEN Publications Page. In essence, we have been publishing something almost every day since the turn of the century. On the IndianaHomeschoolers E-list, homeschoolers have been publishing their opinions, ideas and advice every day since it opened.
Here's a list of publications (mostly online) we have worked on, or are currently working on in an effort to Help Hoosiers Homeschool:
Articles
You'll find all of our individual articles and essays listed either in their respective sections of the web site (see the menu) or linked via our Library Home Page. And don't forget to make use of our Search Page if you already know what you're looking for.
Booklets
We published a hard copy booklet that explained most of the aspects of the IHEN Web Project. We included all of the e-mail discussion lists, the IHEN County Contacts program, the IHEN Statewide Resource Directory and more. Unfortunately we gave them all away and lost the original in a computer crash. We will try to have a PDF remake made in the future. It's quite amazing to see what all we've been doing over the past several years.
Check out our online booklet: Getting Started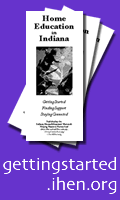 Just starting out, or thinking about homeschooling?
Read "
Getting Started: You can homeschool your child.
"
Then check out
IHEN's New Homeschoolers
pages.
Newsletters
For a few years, IHEN published a monthly e-mail newsletter called the IHEN Journal. We had to stop publication for lack of volunteers, but back issues are still available on the IHEN Journal page. Lots of good reading from some great writers.

Subscribe to the IHEN Journal YahooGroup to keep up to date, should the journal resume publication.
Journals
We're starting to develop another journal of sorts. It's not a blog, but it's not a regular newsletter. We're thinking it's kind of a Readers Digest version of the best posts from the IndianaHomeschoolers list. We call it The Hoosier Homeschooler.

We hope to have a lot of great reading there. Not just simple bloggish paragraphs of two comments and a link to some other site. But rather it will be a place to find some of the same sage advice we read daily on the IndianaHomeschoolers list. Oh... and a little fun as well. :-)
IHEN Topics Pages
IHEN publishes occasional IHEN Topics Pages -- essentially white papers and articles on a single topic -- to help parents come to a better understanding of what homeschooling can be for them. Our current lineup of IHEN Topics are:
Homeschooling Teens who Dislike School (525K PDF)
This is an essential document if you are a parent who is still not sure about homeschooling, but is confronted by the reality that their child is purposely failing school. Maybe they need out.