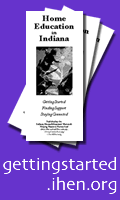 Just starting out, or thinking about homeschooling?
Check out IHEN's New Homeschoolers pages.
LINKING TO IHEN
If you would like to link ihen.org to your site, it's as easy as copying a little code into your web page, and we handle the rest. You don't even have to copy images into your directory.
Choose an image, click on it and highlight the text that appears in the frame to the right. Copy the text, then paste it into your web page. The image will be delivered from our servers when the page is viewed.
If you have any questions, you can write the Site Editor.
Thank you for helping Hoosiers Homeschool, by linking to ihen.org.


IHEN DIRECTORY SUPPORTER
If you are listed in our IHEN Resource and Support Directory, then you'll also want to let everyone know where you can be found. Use the html code provided, to create an image link on any page of your web site. It's a great way to let visitors to your web site that you are Helping Hoosiers Homeschool.


IHEN.org Directory Affiliate Graphic (104x85px)
Click on button for html code you can copy into your web page.
IHEN'S 'GETTING STARTED' PROGRAM LINKBACK BUTTONS/TEXT
In keeping with our motto: Helping Hoosiers Homeschool, IHEN has published a simple brochure meant to introduce homeschooling to parents who just don't know where to start. The brochure is called "Homeschooling in Indiana" and we've published an online version so everyone can access it. To LinkBack to this online brochure, click the links below and copy the html code on the linkback page. Paste it into your web pages and you're good to go!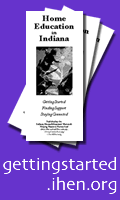 Just starting out,
or thinking about
homeschooling?
www.gettingstarted.ihen.org
IHEN GENERAL LINKBACK BUTTONS
IHEN is updating and developing graphic elements that you can incorporate into your web site, without having to upload the graphics to your server. All images are served from ihen.org, and updated periodically if needed.


IHEN.org button (85x34px)


IHEN.org button (80x100px)
Click on button for html code you can copy into your web page.
BANNERS
Banners are still under development. Please contact the Site Editor if you are interested in linking to our site.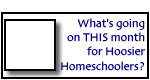 BASIC TEXT BASED LINKBACK TEXT:
(Highlight and copy, then paste into your web page.)
Indiana Home Educators' Network (IHEN)
IHEN c/o Peach Grove Press/eMedia
PO Box 47
Yorktown, IN 47396
http://www.ihen.org
Description: IHEN is a Web Project for Hoosier Homeschoolers. Benjamin Bennett (SiteEditor@ihen.org) is the IHEN.org Site Editor and Web Project Coordinator. He is a Full-Time Dad and homeschooler of four. IHEN is building the largest statewide resource directory of support groups and homeschool resources. The directory can be found at http://www.ihen.org/directory.
IHEN also manages the largest e-mail discussion list in the state: IndianaHomeschoolers. Over 700 subscribers are an e-mail post away, offering advice, support, and discussion. Subscribe by going to: IndianaHomeschoolers.com.
IHEN has been Helping Hoosiers Homeschool since the turn of the century.
E-mail: ihen@ihen.org
---
INDIANA HOME EDUCATORS' NETWORK
http://www.ihen.org
ihen@ihen.org

IHEN.org Site Editor: Peach Grove Press/eMedia | Mail