COUNTY BY COUNTY
IHEN staff
There are over ninety counties in the state of Indiana. One of IHEN's goals is to eventually have a contact person, a homeschooler, in every county of the state. Until then, we are finding it comforting that we are making a difference and influencing more and more families to choose homeschooling as an alternative.
Below is a map with every county filled in where we have heard from a parent who has been influenced by the IndianaHomeschoolers list. We also thought you might enjoy comments we've received (right). If your county isn't listed, feel free to e-mail us your name, county, and any comments you might like to share about the IHEN Web Project, and the IndianaHomeschoolers list. Send your comments to: WebServices@ihen.org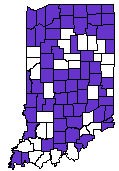 What about outside Indiana?
Reno (KS)
Kathleen
Bothell (WA)
Joyce B. (will move to Allen Co. in August, 2003)
Budapest, Hungary
Cheryl H. (will move to Tippecanoe Co. in October, 2003)


WHO DOES IHEN REACH?
Write to IHEN Web Services to add your comment and to let us know we're reaching out your way.
Adams County
Allen County
Tyna R., Janis C., Jane C., Barb P., Christy K.
Bartholomew County
Danielle
Benton County
Blackford County
Boone County
Christy, Lisa
Brown County
Diana B.
Carroll County
Cass County
Clark County
Rhonda W., Susan, Debbie H.
Clay County
Clinton County
Crawford County
Martha
Top | E-mail Your County and Comment
Daviess County
De Kalb County
Dearborn County
Anna, June
Decatur County
Delaware County
Ben, Beth
Dubois County
Tammy W.
Elkhart County
Sherrie C., Jami
Fayette County
Floyd County
Karen S., Billie
Fountain County
Franklin County
Fulton County
Gibson County
Amy S.
Grant County
Rosa P.
Greene County
Top | E-mail Your County and Comment
Hamilton County
Tamy
Hancock County
Harrison County
Hendricks County
Kimberly
Henry County
Howard County
Huntington County
Jackson County
Jasper County
Jay County
Jefferson County
Jennings County
Johnson County
Becki, Crystal A.
Knox County
Kosciusko County
LaGrange County
Lyndy P.
Lake County
Mary Ellen
LaPorte County
Denise, Carol P.
Lawrence County
Top | E-mail Your County and Comment
Madison County
Betty M.
Marion County
Janet S., Denise R., Beth M.
Marshall County
Martin County
Miami County
Kathy
Monroe County
Kathy T.
Montgomery County
Morgan County
Newton County
Christina, Margie M.
Noble County
Ohio County
Orange County
Owen County
Parke County
Perry County
Pike County
Porter County
Denise F.
Posey County
Ang A., Rita E.
Pulaski County
Putnam County
Top | E-mail Your County and Comment
Randolph County
Ripley County
Rush County
Saint Joseph County
Georgia H.
Scott County
Shelby County
Spencer County
Starke County
Tami
Steuben County
Pam H.
Sullivan County
Jen
Switzerland County
Tippecanoe County
Tipton County
Union County
Vanderburgh County
Gino G., Nancy G., Shannon
Vermillion County
Vigo County
Chris D., Anna C.
Wabash County
Warren County
Warrick County
Washington County
Wayne County
Sandra S.
Wells County
White County
Jeff & Debbie R.
Whitley County
Top | E-mail Your County and Comment